Placing Content into Context:
The Essence of Delivering Personal TV Experiences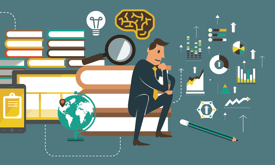 Remember when the Boss sang '57 Channels (And Nothin' On)' and we all nodded in wise agreement?
That was all the way back in 1992, and even then we were feeling underwhelmed by an overload of content. Fast forward to 2015 and there are hundreds of traditional channels, thousands of online services, and a limitless sea of digital content vying for our attention. It's not that there's nothing on, there's too much. It's getting harder to find what we want when we want it.
The key to helping viewers to overcome this sense of 'content overload', and more importantly stay connected to your brand, is a personalized experience. Like Facebook's personalized pages, and Amazon's recommendations based on your purchase history, savvy content distributors are moving to create hyper-personalized services for viewers. Services that offer context-based recommendations (where you are, who you're with, how much time you've got), that link all your interests into one user experience, and get smarter at curation the more you use them.
It's certainly a brave new world, and to help you navigate it we invite you to download 'Hyper-Personalization. This Time It's Personal.' Learn how hyper-personalization can help viewers engage and TV providers profit:
Connecting content to context
The five questions you should ask to design a personalized service
How hyper-personalization works for content owners, broadcasters, or multi-service operators
Help your viewers go from feeling overloaded to overjoyed.
Fill out the form to the right and download it free today >>