RESEARCH REPORT:

The Video Data Analytics Revolution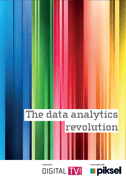 It is widely understood that big data, enabled by IP and cloud technology, has the potential to transform business practices across a broad range of sectors, including media and online video. However, the use of viewer behaviour analytics (the collection and analysis of a variety of metrics about the way users interact with audiovisual media) by companies varies greatly.
In this survey produced by Digital TV Europe, almost 200 video industry players from 40 countries were surveyed for their views on the video data analytics revolution and its impact on audiovisual media.
Some key takeaways:
Survey respondents showed a general lack of satisfaction with the data analytics engines they currently use.
54% don't get value from, or struggle to make meaning of their data.
37% said analytics was critical factor in the success or failure of their service
Fill out the form to the right and download it free today.