WHITEPAPER:

Modelled for Success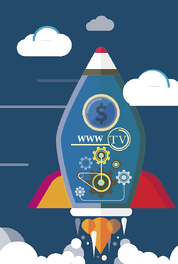 Internet-TV is a market that's not just growing, but exploding with potential.
But it's not limitless potential, and not everyone will be a winner. Those that wade in without a strong idea of where their path to profitability lies, or how and when to invest in their own success, will probably find themselves chewed up and spat out.
It might sound circular in logic, but the first step is to know what it is you need to know. How much is it going to cost to transcode your content library and all the content you expect to acquire in the future? What devices are your viewers watching on? How frequently do they watch? How do they want to pay, if they want to pay at all? And how much should you invest in marketing to reach them?
These are all great questions, but not so great if you don't know where to go to find the answers. Fortunately, we have an idea which we're sharing in our new whitepaper: 'Modelled for success: Unraveling the complexity behind creating a viable internet-TV business.'
You'll gain valuable insight into the market, along with:
A concise definition of Internet-TV business modelling and its benefits
An overview of the key variables to consider for successfully launching an OTT service
An understanding of several revenue models to operate from
Outfit yourself with all the necessary tools to minimize on operational costs, improve market penetration, and get insider tips on where the market is trending.
Fill out the form to the right and download it free today.